I'm excited to have opened up again, and I'm proud to have supercharged my policies and procedures to provide an elevated standard of care in this time of COVID-19.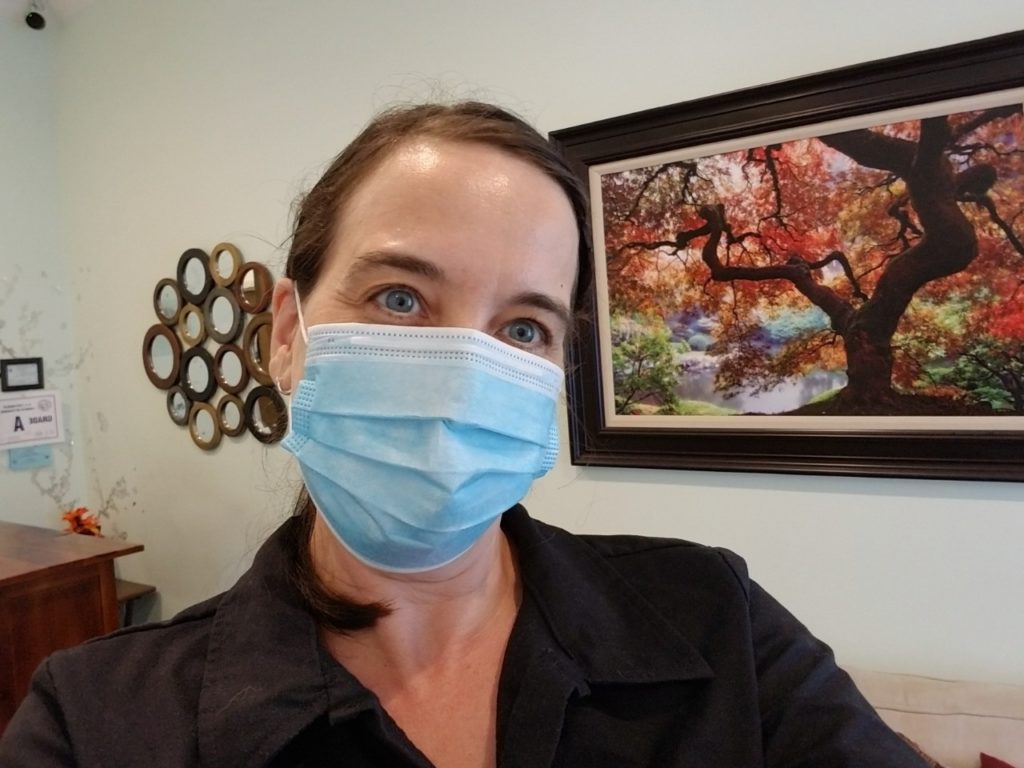 Facility Changes at My Wellness Place:
Air Purifiers with true HEPA filter and UV light have been added to each room.
Time between services has been increased to at least 20-30 minutes.
Our lobby is temporarily closed, as it is too small to allow for social distancing. The front door will be locked, and I will escort you inside at the time of your appointment. Payment and Scheduling will be done in the treatment room.
Masks are required at all times while in the building and while in session. (I'll have extras on hand.)
My Wellness Place has separate, small rooms for its services, which are all used by several different therapists throughout the day. Each therapist has their own unique requirements and procedures beyond the State requirements.
Disinfection/Sanitation Procedures:
I'll be using EPA Registered disinfectant Cavicide, EPA Registration 46781-6, which is on List N: Products with Emerging Viral Pathogens AND Human Coronavirus claims for use against SARS-CoV-2 and has a two minute contact time. Upon arrival at the facility, I will disinfect high touch areas in the lobby and restroom, including doorknobs, light switches, and faucet and toilet handles.
Before and after each massage session, the following items in the massage room will be disinfected: light switch, doorknobs, counter, massage table, face cradle, rolling stool, and anything else one of us may touch. A freshly disinfected massage oil bottle will be used for each client. The true HEPA filter with UV-C Light will be utilized before, during, and after session.
Laundry Management: Clean linens, blankets, and towels will be stored in a closed bag prior to session. After session, linens will be placed back in bag and laundered with color-safe bleach.
Practitioner Hygiene: I'll be following CDC Protocol for Hand Hygiene in Healthcare Settings, before and after each session (as always!), and many more times while I'm in the facility. My nails will be very short, as is customary for massage.
Self-Monitoring: Each day I'll be monitoring and recording my own temperature and answering the Pre-Screening Questions. If I have a fever, or answer yes to any of the screening questions, I will cancel our appointment.
Modified Cancellation Policy: I will waive the late cancellation fee if you develop a fever or symptoms of illness prior to your appointment. Please call to let me know if you feel unwell and I will cancel your appointment without charging a fee.
Scheduling Procedures:
*If you've recently traveled outside the state or been in a group where social distancing/mask-wearing was not observed, indoors or outdoors, please wait 14 days to schedule.*
Sessions booked online must be paid at time of booking.
After scheduling your session, you will receive a booking confirmation. You will also receive an email from me 24 hours before your appointment with a request to complete my online COVID-19 Form. This will be required prior to each appointment.
Arrival Procedure: Please arrive 5-10 minutes early and text me upon arrival (704-774-6095) and I'll let you in when we're ready. Please make sure you have your mask on. I'll check your temperature with a no-touch thermometer, ask some of the pre-screening questions again, and update on needs for the session. We will both wash our hands or use hand sanitizer before walking back to the room.
Session Procedures: Masks will be worn by both of us during the session. I will also be wearing goggles. The massage will proceed as normal, with a few more hand sanitizer breaks and conversation limited to communication about the massage. Facial massage will be prohibited. When the session ends, I will leave the room, as normal. When you are redressed, please open the door to indicate you're ready to take care of payment and rebooking.
Touchless Payment and Re-Booking: Debit or Credit card payments will be made using my touchless Square payment system. If you'd like to pay cash, please use an envelope. Rebooking will also be done in the treatment room.
In-Home Sessions: Please prepare the room in which the service will occur ahead of time. Preparation should include cleaning and sanitizing all surfaces with EPA-approved products, including light switches and doorknobs. Open a window and, if available, place a fan in the window pointed out so that the airflow is directed out of the room. We will utilize my HEPA filter is a ventilated room isn't available. Please wear a face mask before, during, and after the session.
Pre-screening questions will be required for both the client and anyone else in the household. When I arrive, I will immediately wash my hands and take your temperature with a no-touch thermometer. The session will proceed as normal, with a few more hand sanitizer breaks, and conversation will be limited to comfort and positioning. Massage table, bolster and all accessories will be disinfected after every massage.
Followup Call/Email: I will contact you about a week after your session, to ask how your feeling after your massage, but also to ask about your overall health. Please also call me if you start showing any apparent COVID-19 symptoms within 14 days after your appointment.
Action Plan for Possible Exposure:
In the event that I suspect I have been exposed to COVID-19, I will cancel all appointments and self-isolate until I can obtain testing and have been confirmed negative.
If a client calls to report that they have tested positive for COVID-19 within 14 days of their massage session, I will contact all clients from that period of time and self-isolate until I can obtain testing and be cleared of infection.
In the event that I test positive for COVID-19, I will inform all clients from the previous 14 days and self-isolate until I can be cleared of infection.
In the event that YOU test positive for COVID-19 within 14 days after your session, please contact me as soon as possible so that I may get tested.
Individuals at High Risk for COVID-19:
Older Adults – Among adults, the risk for severe illness from COVID-19 increases with age, with older adults at the highest risk. Severe illness means that the person with COVID-19 may require hospitalization, intensive care, or a ventilator to help them breathe, or they may even die.
People of any age with the following conditions are at increased risk of severe illness from COVID-19: Chronic kidney disease, COPD, Weakened immune system due to organ transplant, Obesity (BMI of 30 or higher), Serious heart conditions, (cardiomyopathy, heart failure, coronary artery disease), Sickle cell disease, Type 2 diabetes.
People with the following conditions might be at an increased risk for severe illness from COVID-19: Moderate to severe asthma; Cerebrovascular disease; Cystic fibrosis; High blood pressure; Weakened immune system due to blood or bone marrow transplant, immune deficiencies, HIV, use of corticosteroids or other immune weakening medications; Neurologic conditions such as dementia; Pregnancy, Damaged or scarred lung tissue, Smoking; Type 1 Diabetes
You can read more about high risks associated with COVID-19 at the CDC's coronavirus information site.
Questions to ask your Doctor:
If you have any of the above conditions, please discuss the risks with your doctor:
Is the risk of exposure to COVID-19 worth the benefits of massage?
Are the risks due to a weakened immune system are low enough to be in close contact with a massage therapist for 60+ minutes (while both parties are wearing a mask)?
Do you have clotting risks? Massage has the potential to disrupt embolisms, clots, and macrovascular clots through both the manual action of massage and the increase of circulation. There are also concerns about clotting issues related to having had COVID-19, even if you are not aware of having had it, or were not tested positive for it.
Does increasing the flow of circulation impose any other risks?
Does massage risk aggravating any inflammatory conditions you may have?
Are you at an increased risk of bruising due to your condition or medication you may be on?
Will wearing a mask for an extended period of time trigger an asthma attack or other breathing issues?
Are the risks associated with any other health conditions you may be experiencing worth the benefits of massage?